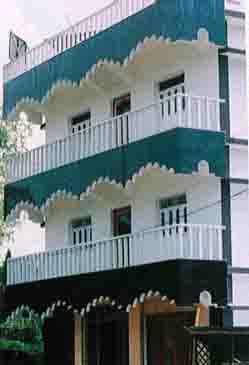 Address:

Near Sujata Bridge, Bakrour, Bodhgaya (Gaya), Bihar

Description:

Mahamaya Hotel Bodhgaya is in a good and peaceful location, quite suitable for all guests coming to Bodhgaya. Either you com here for business purpose or sightseeing, you can relax in this comfortable hotel.A warm greeting, a welcoming smile and dedicated reception at the hotel lobby offer you an experience of visiting and staying at the hotel.Hotel MAHAMAYA is the nearest hotel from Mahabodhi Temple. It takes only 1 minute by foot to get there. Temple is visible also from the room. MAHAMAYA is best located hotel at Bodh-Gaya. In all respect we are serving best to our customer. Please enjoy comfortable stay and best service when you are at Bodh-Gaya.
Enjoy a wonderful sense of calm and sophistication where the relaxing rewards of a business day are tastefully catered to and the needs of business traveller attentively met.

Room Facility:

Hot water, Bath room, Telephone are available in all rooms. All rooms are Air conditoned. TV, Bathtub are also available

Other Facility:

All travelers can expect great service and amenities that the hotel has to offer. Additionally, beautiful interior design in the hotel has been decorated in order for the guests who come to this city for either leisure or business purposes to be able to enjoy their stay even more.

Others:

All rooms are furnished with the host modern facilities to ensure your stay a comfortable and memorable experience. With its different type of rooms, you are sure to find a variety of rooms to fit your needs.

Location Advantage:

Mahamaya Hotel has a good location and easy access.

Access Rail:

14 km. from the Railway Station.
Number of Rooms:
2
Description:
Hot water, Bath room, Telephone are available in all rooms. All rooms are Air conditoned. TV, Bathtub are also available
Number of Rooms:
18
Description:
Hot water, Bath room, Telephone are available in all rooms. All rooms are Air conditoned. TV, Bathtub are also available
Number of Rooms:
6
Description:
Hot water, Bath room, Telephone are available in all rooms. All rooms are Air conditoned. TV, Bathtub are also available
24-hour front desk
Car rental desk
Medical Facilities Service
Meal plan available
Lunch served in restaurant
Dinner served in restaurant
Bus parking
24-hour room service
Coffee shop
Secured parking
Currency exchange
Doctor on call
24-hour security
Free parking
Air conditioning
Housekeeping - daily
Laundry/Valet service
Parking
Restaurant
Room service
Security
Bathroom amenities
Bathtub
Extra adult charge
Color television
Satellite television
Instant hot water
High speed internet connection
Internet access